Slot Canyon and Dinosaur Tracksite Combo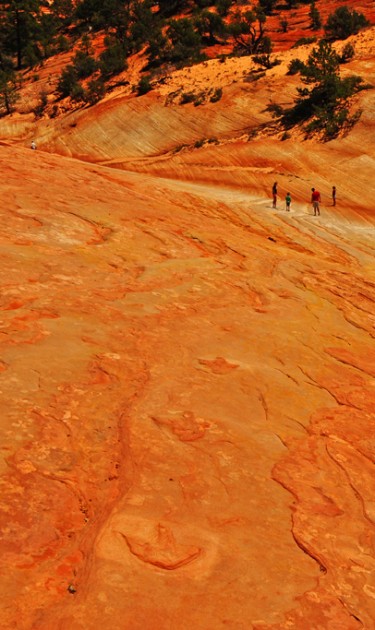 期間: 270 分 (約)
所在地: Kanab, UT
****PLEASE NOTE: THIS ONLINE SYSTEM HAS A 36 HOUR CUTOFF.
IF YOU ARE LOOKING FOR A LAST MINUTE TOUR PLEASE GIVE US A CALL***
"GROUP" booking option means private group.
This tour combines our popular Peekaboo Slot Canyon Tour (Click to Read More) with the Dinosaur Tracksite for a medium tour length.
Fine layers of mud and silt trapped between layers of sand froze Dinosaur Game Trails in time for 180 million years. Dinosaur Tracks as small as a chicken and as large as an elephant connect you with a strange and ancient "Utah". The Dinosaur Tracks, numbering in the 100′s combined with dazzling slickrock sandstone formations make this place a must see. Between the Slot Canyon and the Tracksite we will play in the gorgeous Coral Pink Sand Dunes. Kids love this tour!
4.5 hrs. (NO LUNCH)
Hiking Difficulty 1-10: 1
Recommended for all ages and abilities.

Dont forget! Our Ultimate Kanab Tour features these sites and more in one action packed day.

****PLEASE NOTE: THIS ONLINE SYSTEM HAS A 36 HOUR CUTOFF.
IF YOU ARE LOOKING FOR A LAST MINUTE TOUR PLEASE GIVE US A CALL***
"GROUP" booking option means private group.