The Wave Tour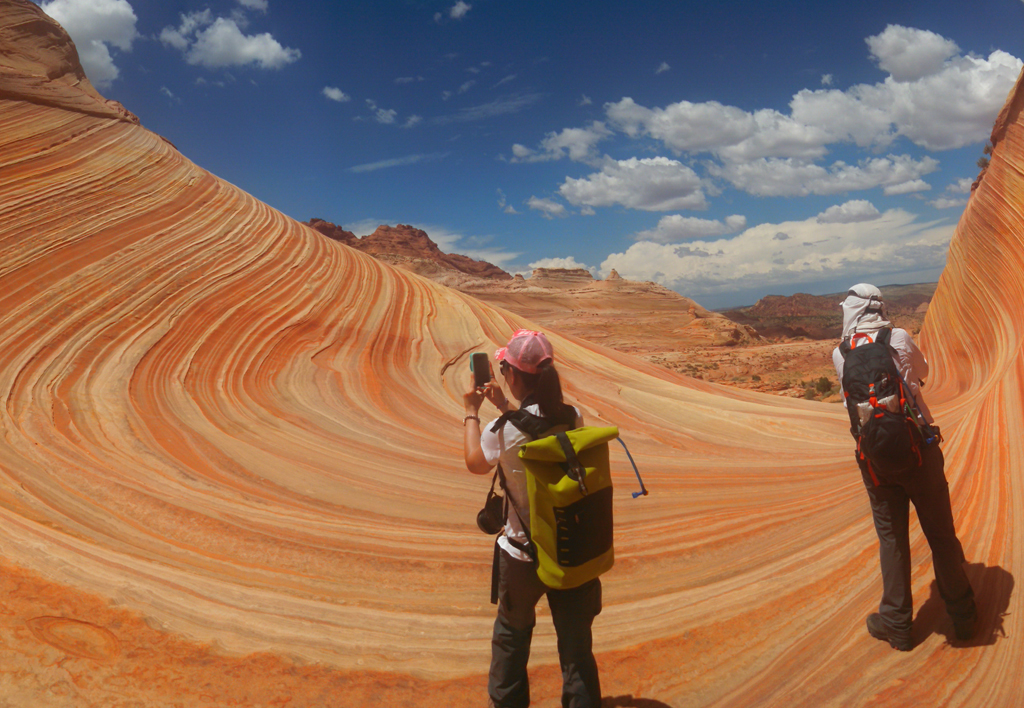 Duração: 9 Horas (Aproximadamente)
Localização: Kanab, UT
****PLEASE NOTE: THIS ONLINE SYSTEM HAS A 36 HOUR CUTOFF.
IF YOU ARE LOOKING FOR A LAST MINUTE TOUR PLEASE GIVE US A CALL***

"GROUP" booking option means private group.
Until a few decades ago only a handful of people knew about the Wave in North Coyote Buttes of the Paria Canyon Wilderness on the border of Utah and Arizona. Today there is a lottery to determine who gets in. Phenomenon is the word. Nothing else does it justice.

The undulating strata and spectrum of colors found in the sandstone walls of the Wave date back to the Great Pangean Desert of the Jurassic Period about 160-180 million years ago. Wind and water erosion carves, smooths, and reveals the layers of sand left here in great dunes and then compacted and mineralized (colors) into stone. While the Wave is a smooth, polished bowl of striped wind-swept sandstone, the same exotic rock is displayed in numerous forms, shapes, colors, and patterns throughout the guided hike to the Wave in North Coyote Buttes.
Get the most of your Wave experience! If you are lucky enough to get your paws on a permit to hike the 6-8 miles of Coyote Buttes North and the Wave, consider The Wave Tour guided by Dreamland Safari Tours.
With the Wave Tour you get all of the following:
1. Comfortable, safe, year-round, high clearance, 4×4 transportation for up to 6 passengers on rough, unpredictable House Rock Valley Road
2. Area Orientation, maps, and ideas for DIY adventures.
3. A homemade picnic lunch.
4. Knowledgeable tidbits about the geology, ecology, and history of the area. Guided Hiking through the easiest and most scenic routes to the neatest alternate and subtle Points of Interest including Dinosaur Tracks and bizarre colorful rock formations and hoodoos.
5. Guided photography and tips at dozens of locations.
6. Personal Safety- We help prepare you, keep you on track, and make sure you are safe in the Paria Canyon Wilderness. Our guides carry a Medical Certifications and satellite communications in case of emergency.
SPECIAL PERMITS ARE REQUIRED FOR THE WAVE TOUR AT NORTH COYOTE BUTTES. DREAMLAND DOES NOT PROVIDE ADVANCE PERMITS OR HAVE AN UMBRELLA PERMIT. ONLY OUR GUIDES ARE COVERED BY OUR PERMIT. WHEN OBTAINING PERMITS ONE DOES NOT HAVE TO ADD OUR GUIDES TO THE TOTAL NUMBER. IN CERTAIN CIRCUMSTANCES, UPON REQUEST, AND WITH AN ALTERNATE TOUR PLANNED, DREAMLAND MAY BE ABLE TO ATTEND THE LOTTERY IN YOUR STEAD. THIS IS PROVIDED AS A COURTESY TO OUR GUESTS ONLY WHEN STAFF IS AVAILABLE. PERMITS ARE NEVER GUARANTEED.
8hrs. Not Recommended for small children. Not Recommended for the elderly (75+). Please note that ignoring these recommendations and the harsh realities of the Wave hike, especially in Summer could lead to serious injury or even death. If in doubt of age and abilities do not sign up for this tour. Not only will you be taking serious risks, but you will also negatively affect the outing for the others on the tour.

Hiking Difficulty 1-10: 7

Elevation change, uneven footing, and sand make the terrain on The Wave Tour more difficult and the distances are some of our longest at around 8 miles. Please be prepared for hiking in the sun in general. Daypacks are necessary especially in Summer when our guide alone cannot carry enough water for everyone to safely complete the hike. Boots are highly recommended. Please carefully consider your age and physical abilities especially during the hottest months of the year: June, July, August. This tour is especially difficult in the heat.
****PLEASE NOTE: THIS ONLINE SYSTEM HAS A 36 HOUR CUTOFF.
IF YOU ARE LOOKING FOR A LAST MINUTE TOUR PLEASE GIVE US A CALL***

"GROUP" booking option means private group.